Pitch clinic offered
Bowling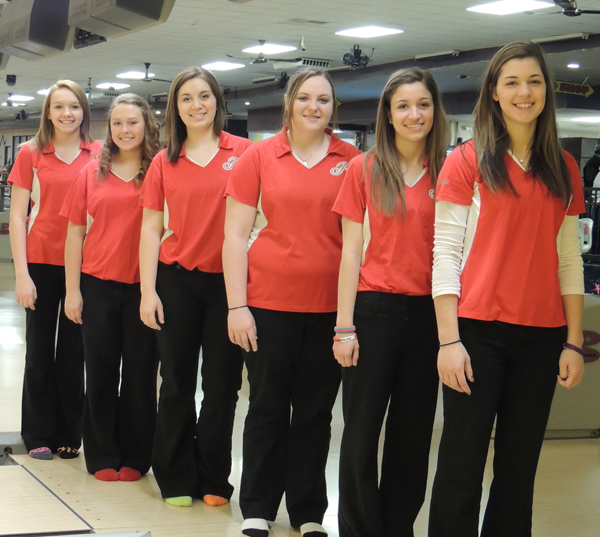 The Frankenmuth varsity girls' bowling team members are, from the left, Billie Harrington, Kacee Myczkowiak, Chelsea Wilson, Sami Kubiak, Abbey Smith and Angela Ritter.
FHS Bowlers roll to great first season at state finals
The Frankenmuth varsity bowling team finished a super first season with a trip to the state finals last weekend.
The Lady Eagles competed as a team on Friday, March 1, and senior bowler Samantha Kubiak collected third place out of 60 competitors in the singles competition.
This was all part of the MHSAA Division 3 state finals, held at Airport Lanes in Jackson.
The Lady Eagles took second place in the Tri-Valley Conference East Division, fared well in the overall TVC Tournament and qualified for the Division 3 state tourney by taking third place at its regional one week earlier.
In singles action, the top 16 bowlers based on total pinfall after the six-game morning qualifying block advanced to the afternoon match play finals. The match games are two-game total pinfall.
In the qualifying block, Kubiak shot a 1,164 total on games of 269, 176, 161, 166, 170, and 222.
In the round of 16, Kubiak defeated Coloma's Sabrina Ball, 356-291 (182-174 to 146-145).
In the quarterfinals, Kubiak bested Hannah Chase of Alma, 364-359 (172-192 to 213-146).
Chase led by 43 pins after game one but with three opens in the final five frames of game two she lost by five pins.
In the semifinals, Kubiak fell to the eventual Division 3 state champ, Armada's Laurynn Ball, 361-352 (153-208 to 180-172).
Other TVC East bowlers who faired well in the singles competition were Caro's Adrianna Jackson in 12th place and Birch Run's Aubrey Ratzlaff in 42nd place.
In team action, Frankenmuth finished in 18th place with a total of 2,532 pins. The top eight teams based on total pinfall after the eight Baker games, two regular game morning qualifying block advanced to the afternoon match play. The match games are decided by total pinfall of one regular game and two Baker games.
Battle Creek Pennfield, the sixth seed, won the Division 3 state crown over Grand Rapids South Christian, 1,203-1,135. Croswell-Lexington was the top qualifying team with a 3,040 total series.
"Our team averaged 144 for the eight Baker games and our two regular games were under our team average," FHS Assistant Coach Theresa Kubiak said. "We just didn't have it on Friday. The competition is unbelievable. There are so many talented, young bowlers out there. We were honored to have made it as far as we did with this begin our first year of competition."
Laurie Harrington was the Lady Eagles coach this season and was Kubiak. Plans are in place to start a boys' varsity bowling program next winter.
"This was a great experience not only for the bowlers, but as a coach and a parent as well," Kubiak said. "Laurie and I have learned so much this past year and we are very pleased with everything the girls have done as a team and individually. We are looking forward to next season so we can continue to build this program."
997