Pitch clinic offered
FHS Track & Field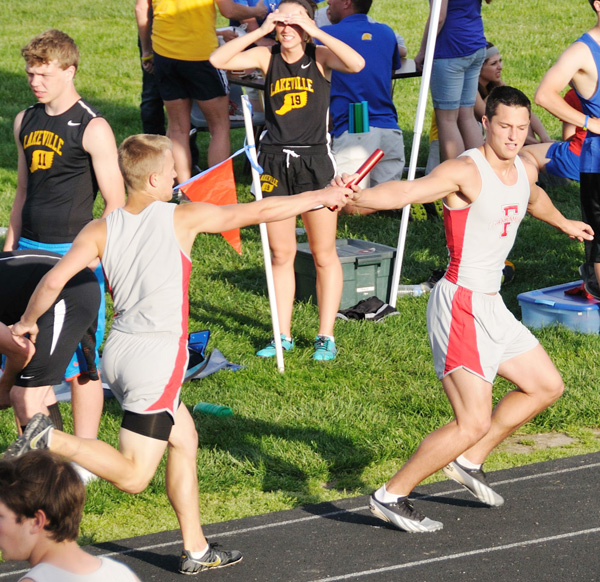 GOOD EXCHANGE! Frankenmuth varsity boys' track and field athletes Jack Veitengruber, left, and Brian Stearns exchange the baton during the 3200m relay at Birch Run May 8. The Eagles defeated TVC East Division school Birch Run and nonconference foe Otisville-LakeVille. (Photo by Kriss Olgren)
Track Title Time!
Eagle thinclads finish TVC duals undefeated; prepare for regional, Meet of Champs, MITCA and state final action
The Frankenmuth varsity boys track and field team travel to Birch Run May 8 and came home with two victories of sorts.
The Eagle thinclads defeated Birch Run in the Tri-Valley Conference East Division portion of the meet, 82-54. Otisville-LakeVille, the school that will join the TVC East next year, also participated and when scored as a triangular, 'Muth won with 76 points, followed by the Panthers with 44 points and O-L with 17 points.
"The boys are undefeated in TVC dual meets. All we need to do is win the overall TVC Meet May 22 and we'll be the champs," FHS Coach Jerry Drake said. "The seniors have not lost a TVC meet all four years."
For purposes of the league, only the FHS and Birch Run results will follow.
The Eagles won 12 of the 17 events, including sweeps in the weight events. In the shot put, it was 1-2-3 with Alex Helpap (50-7-1/2), Michael Frahm (47-9-1/2) and Jesse Micho (46-11-1/2) while the discus was led by Helpap (147-4-1/2), Jesse Micho (130-3) and Jotham Micho (119-10).
The relays were led by the 1600m team (3:42.60) and the 400m relay team (:47.23).
Junior Brian Stearns was a triple winner, grabbing first place in the long jump (19-6), the 110m hurdles (:15.13) and the 300m hurdles(:42.06).
Other first-place winners were DJ Bonkowski in the pole vault (10-6) and the 100m dash (:11.79), Josh Pendleton in the 1600m run (4:54.76), Ian Fischer in the 200m dash (:23.51) and Mike Benson in the high jump (5-6).
Second-place points earners included Christian Lambeth in the 110m hurdles (:16.95), Jack Veitengruber in the 400m dash (:56.04), Kyle Schmitzer in the 800m run (2:14.36) and Pendleton in the 3200m run (11:27.86).
Third-place Eagle athletes included Lambeth in the 300m hurdles (:44.09) and Colin Worden in the pole vault (9-6).
Both the boys' and girls' teams pulled out of the Hatchet Invitational in Bad Axe last Friday, due to the very cold and wet conditions. The coaches chose safety and the chance of pulled muscles over the competition.
Five meets remain for the Eagles, including the MHSAA Division 3 Regional at Bad Axe this Saturday, May 18. The overall TVC Meet will be held at Bridgeport on Wednesday, May 22, at 4pm.
The MITCA Team State Finals are set for Kent City on Saturday, May 25, followed by the Thumb Meet of Champions on Tuesday, May 28, in Caro. The MHSAA Division 3 State Finals will be held in Comstock Park on Saturday, June 1.
1732