Pitch clinic offered
FHS Ladies Track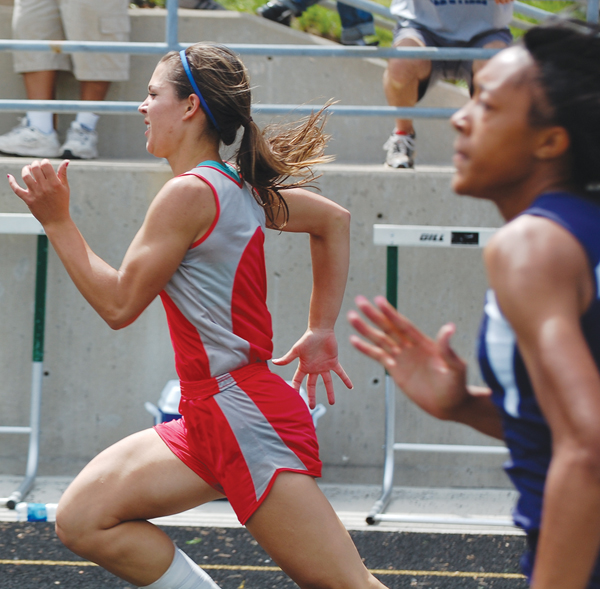 ANGIE RITTER . . . had a busy day the MHSAA Division 3 State Finals last Saturday. She was part of the state champion 800m relay team, was second in the 400m dash, third in the 200m dash and fifth as a member of the 1600m relay team.
Lady Eagle track team 4th, or 3rd, at D-3 state meet
The Frankenmuth High School girls' track and field team set eight personal records on their way to a nice finish at the State Finals held at Comstock Park. The final results placed the girls in fourth place, but the coaches contend that they actually finished third in the State. In this article, a third overall is assumed by the coaches.
A formal appeal has been filed with the Michigan High School Athletic Association (MHSAA) to review the 400m dash finish order. As of this writing, they have not heard back with any type of decision.
Parents informed Head Coach Mike Snyder that they thought Angie Ritter finished second in the 400m, but was awarded third place. Coach was at the opposite end of the track watching Sydney Bronner at high jump and could not see Ritter's finishing placement.
"I knew she ran very well, but could not see what place she took," Snyder said. "Once several parents let me know the situation, we filed a formal appeal to MHSAA asking them to review the official photo finish pictures of the race. We also sent in a video link that Larry Hammond captured showing Angie in second. If Angie's placement is accepted and the points redistributed like they should have been, the girls would place third in the State."
"The timing and the meet ran very well and we understand that corrections need to be made from time to time, even at a State level meet," Snyder commented.
If the appeal is approved, the scoring would be Pewamo-Westphalia winning the meet with 54 points followed by Reed City with 40 points (Sammy Mitchell scored all 40 points for Reed City), followed by Frankenmuth with 37.5 points and Adrian Madison with 37.
Snyder was asked if he was disappointed after the meet was over.
"Yes, we were disappointed about not having the team reach a championship, but I want to add that we are not disappointed in a third place finish at the State Finals Track Meet. Many schools would love to say they finished in the top 10 at States, let alone the top five. The girls have a lot to be proud of. They represented Frankenmuth very well once again. The girls demonstrated their class by waiting around after the meet was over and going down to congratulate the girls from Pewamo-Westphailia on their victory. That is true sportsmanship at its finest. Coach Hayes and I are very proud of the team and how they handled themselves today. The following is how the girls performed today:"
The 4x800m relay, made up of Carly Hammond, Mackenzie Walter, Madison Mossner, and Emily Sievert, did not have their best race of the season, but just qualifying for the State finals with one of the best times clocked by a girls 4x800m relay in many years is a very nice accomplishment. The team finished 17th out of 25 teams.
Angie Ritter had a very busy day as she ran the 200m preliminary to qualify for the semi-finals which she did in style. After earning a spot in the 200m finals, Ritter placed third with a 25.44 which is a personal record, by .02 seconds, but a PR just the same. Ritter also captured second in the open 400m with another personal record 57.20. She just looked strong in this race even though it's not her favorite, she ran it knowing she had the chance to score points for the team.
Ritter was also the anchor leg in the State Championship 4x200m relay team along with Sydney Bronner, Rachel Crompton, and Sarah Beulla. The team pulled together and shaved more than two seconds off their previous best time as they set a season best time of 1:45.16 just two seconds off the school record set last year.
"Coach Jerry Sheppard gave me a baton at the beginning of the season and I told him it was going to the State Finals," Snyder said. "Well, the girls used it very well as they raced it around the track to a State Championship."
Ritter was also the anchor in the 4x400m relay which also set a season best time of 4:08.37 placing fifth in the State. The team knew they had to run hard because they were seeded in the second heat so they were not running with the top seeded teams. All the girls ran their best 400m splits as Lauren Peterson ended her high school track career with her best split of the season as she lead off the relay, handing the baton to Carly Hammond who also ran one of her best splits. Hammond handed to Cadi Palmreuter who ran her best split to work her way into third position in order to give Ritter a shot as the anchor. Ritter ran a 57 split to continue what her team gave her going into the last lap as the team won their heat of the 4x400m which was good enough to capture fifth place overall.
Sydney Bronner did not start her day off very well when she hit a hurdle in the semi-finals and had to slow down and push the hurdle over with her hands (which is illegal).
"It was heartbreaking to see Sydney do this because she fell last year in the preliminaries and she has a fast enough time to place well in the 100m hurdles," commented Snyder.
Bronner was alright, just very upset. Many of her teammates ran up to her to show her their support and to try to keep her motivated because she had three more events to go. Bronner pulled herself up and helped set a new season best record in the 4x200m relay as she led off to help bring the State Championship medal home.
Bronner was fifth in the high jump as she cleared 5' 2" after running her 300m hurdle race, where she set her personal record in as she placed sixth with a time of 47.24.
Jumping after a hard race like that is very difficult, but Bronner was able to clear the 5' 2" height and just missing all three attempts at 5' 3" kicking the bar off with her heals all three times.
Emily Sievert also had a good day as she set a personal record in the 3200m run with a 17th place time of 12:20.23 shaving off more than three seconds from her previous PR. Sievert was seeded 28th going into the race, but she ran well and placed 17th.
Carly Hammond ran an open 800m, but did not have her best performance as she placed 16th with a time of 2:28.86 which was her second best time of the season. Hammond came through on the fifth place 4x400m relay team. She did just what she needed to do to help the team move into scoring position.
Senior, Ashley Frahm, did not have the day that she was hoping for in the discus or shot put, but her road to the State Finals has been a good one which includes being the school record holder in both events. Frahm scored a fifth place tie in the discus and did not score in the shot put.
"I feel bad for Ashley because I know she wanted to do well in her final track season in high school. I look forward to following her progress at Miami of Ohio next year."
Kerri Frahm set a personal record in the discus with a toss of 107' 04" bettering her previous best by over two feet. Keri placed 13th and gained a great deal of experience throwing at the State Finals meet.
Stephanie Lambeth looked very good at her clearance of 9' 00" in the pole vault.
"Stephanie had to have cleared that height by well over two feet from where I was watching," Snyder exclaimed.
Finally, the 4x100m relay team made up of Rebekah Barger, Cadi Palmreuter, Rachel Crompton, and Sarah Beulla ran to an 11th place finish clocking a season best time of 52.02. The team looked strong and hit their hand-offs and cruised to their season best which was a great way for the team to finish the season.
"Coach Hayes and I are extremely proud of the team. They really gave what they had to give on this day and many of their performances ended in personal records. We came up a little short of our season goal of winning the State Finals (both MITCA, which they won, and this meet), but a third place finish in the State Finals is quite an accomplishment. The personal records showed they gave what they could give. As Angie mentioned in her interview with the Saginaw News, 'we will be back next season!'"
4115