FHS Track & Field
Youth Sports
Eagle Football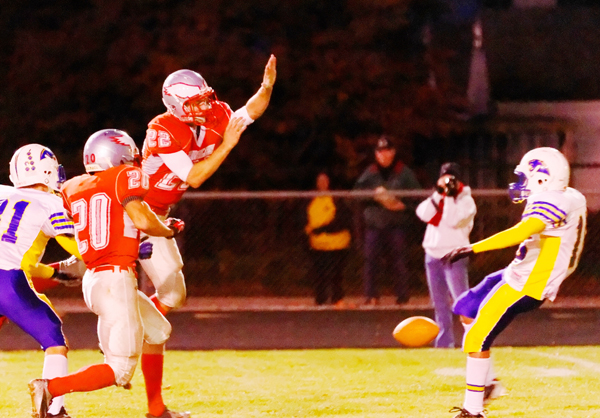 BLOCKED! Frankenmuth varsity football player Brian Stearns (22) rushes the Birch Run punter and blocks this kick during last Friday evening's Homecoming contest against the Panthers. The Eagles moved to 8-0 overall and won the TVC East Division title outright with a 49-14 victory. (Photo courtesy/Chip DeGrace)
Eagles claim TVC East crown with 49-14 win over Birch Run
The Frankenmuth varsity football team won its first Tri-Valley Conference East Division crown since 2007 in grand fashion last Friday evening.
The Eagles kept their perfect record intact with a 49-14 victory over neighboring rival Birch Run on Homecoming 2012.
The 'Muth gridders will gun for the program's first perfect regular season since 1997 when they host another neighboring nemesis, 7-1 Vassar, at 7pm Friday, October 19.
Former FHS Head Coach John Blankenship led the 1997 squad to an 11-1 overall mark, with the lone loss in the MHSAA playoffs, a 41-14 defeat to Riverview at Flint's Atwood Stadium.
A large partisan crowd was on hand for the game as well as the Homecoming activities. Before the game, members of the 1987 team visited the locker room and were recognized between the first and second quarters. That team 25 years ago was Frankenmuth's first-every playoff team and also finished 11-1, led by former Head Coach Ralph Munger.
Fourth-year Head Coach Tim VanWormer said his team had an "OK" week of practice and the Panthers came out in the first quarter looking to spoil the undefeated league season.
Frankenmuth struck first, on their first possession from scrimmage, when running back Ian Fischer rambled 75 yards for the score. Bryce Frahm booted the first of his seven successful PATs for a 7-0 lead at the 7:37 mark of the first quarter.
On the first play of the second quarter, Birch Run coughed up the ball and FHS defensive lineman Alex Helpap made the recovery. Three plays later, 1,000-yard rusher Blaine Malochleb raced 67 yards to cap a 75-yard drive and a 14-0 lead at the 10:27 mark of the second quarter.
Midway through the second quarter, Brian Stearns blocked a Panther punt. When the Eagle drive stalled, Frahm attempted a 29-yard field goal which soared wide left.
A few plays later, 'Muth's leading tackler Zach Heyse recovered a Birch Run fumble. Two plays later, running back Jotham Micho ended a two-play, four-yard drive with a one-yard TD plunge for a 21-0 lead.
A Joel Warnemuende interception set up the last touchdown of the half. With 33 seconds left to play, Malochleb scampered to pay dirt from six-yards out. His run ended a four-play, 32-yard march and gave FHS a 28-0 advantage.
It was more 'Muth offense in the third quarter as the Eagles ran the score to 49-0.
Sixty-two seconds into the second half, Malochleb raced 51 yards to cap a three-play, 55-yard drive.
About three minutes later, quarterback Chris List tossed a 31-yard TD pass to Frahm. It was a one-play, 31-yard scoring summary.
Special teams have been a big part of Frankenmuth football this season and the Eagles capped their scoring with Malochleb returning a punt 48 yards for a touchdown.
With the second team defense in the game, Birch Run scored at the 2:09 mark of the third quarter on a T. Niedecken 14-yard pass from quarterback Andrew Helm. The two-point PAT failed.
At the 6:01 mark of the fourth quarter, Alex Helm pulled in a 33-yard pass from Andrew Helm, ending a six-play, 81-yard drive. Anthony Reinig ran in the two-point conversion.
FHS ran a very efficient offense, rolling up 404 total yards on just 33 plays (12.2 yards per play). The team was 4 of 5 on third down conversions, had just 10 first downs and used just 18:28 off the clock for the 49 points.
Birch Run finished with 196 total yards, 144 on passing late in the game.
Malochleb collected 143 yards on just seven carries (20.4 yards per carry) and three TDs. Fischer ran twice for 86 yards, Nick Volk five times for 48 yards, Stearns three times for 33 yards, Jake Reinbold five times for 31 yards and Chase Kreger four times for 25 yards. List was 2 of 4 passing for 36 yards and a score.
Defensively, Heyse had seven solo and seven assisted tackles for 14 total. Jesse Micho contributed nine tackles, Helpap eight tackles, Jotham Micho six tackles and Mawer four tackles.
VanWormer was asked about which side of the ball has been more impressive this season and he basically said both – as well as the special teams.
"We are holding people down and creating a lot of three downs and out. Offensively, we are doing a better job of holding on to the ball (not fumbling) and the special teams have been very good, with a number of onside kicks recovered and kicks and punts returned," VanWormer said.
4126