Pitch clinic offered
Lady Eagle Tennis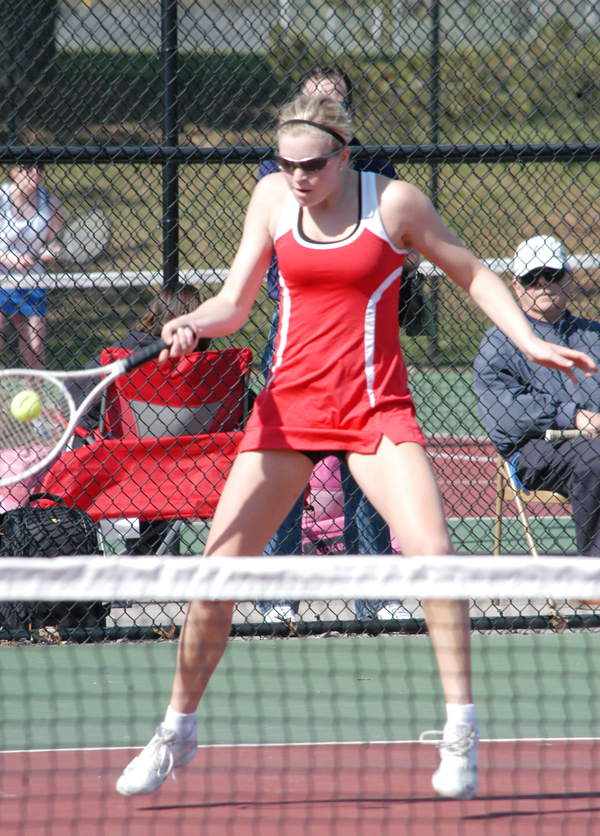 MADISON MERTZ . . . is the Frankenmuth varsity girls' tennis team's No. 1 singles player and thus far this season she has been playing well. Last Monday afternoon, the host Lady Eagles tied Hemlock, 4-4.
FHS netters back on the court
Frankenmuth opened conference play with a match at home against Ithaca on Tuesday, April 16. The weather was perfect; the support out in full force and the stage was set. It was a favorable result for Frankenmuth; winning 6 matches in straight sets, losing one match in straight sets and a third match that went 3 sets.
Madison Mertz, 1-singles, with the result of this game (6-0, 6-0) had only yielded one game out of 25 games played so far this season. Kayla Knoll, a second year varsity player, first year in singles (2-singles), won in straight sets (6-2, 6-1). Katie Degrace, 3-singles, lost in three sets (6-7 (5-7), 6-4, 4-6) in a match that had a little of everything; tie breaker, momentum swings, and deuce games that extended the match to almost 2-1/2 hours long. Rounding out the singles play was Alexa VanHine, 4-singles, losing the match 6-7 (3-7) and 1-6.
The Eagle doubles teams won all four matches in straight sets. The 1-doubles team of Megan Kueffner and McKenzie Freeman took the momentum gained in winning a close first set at 7-5 to win the second set with a 6-2 score. Seniors Alyssa Horstman and Sydney Santoviz at 2-doubles easily dispatched their opponents 6-1, 6-0. At 3-doubles, Chelsea Wilson and Kristen Loesel continued their winning ways with a 6-2, 6-0 victory. The 4-doubles team for this match was Haley Goodall and Rachel Welch. They jumped out to a 6-0 first set and then secured the victory with a 6-2 second and deciding set.
Jenna Mosner and Cassie Pierce played an exhibition doubles match. They won that match with a score of 8-1. As an extension of the doubles teams, they completed the domination Frankenmuth showed in the doubles competition.
Frankenmuth traveled to Chesaning on Friday, April 19 to finally have the match delayed from March 27. It was the most competitive match played to date. Chesaning prevailed with a 5-3 result, with two matches decided late in the day by tie breaks; 11-9 and 10-7 in favor of Chesaning. Due to the weather, it was decided that in the cases of split sets, instead of a third set, a 10-point tie break would be played.
Senior Captain Maddy Mertz continued her domination at the 1-singles position with a 6-0, 6-0, straight set victory. Through this match, Maddy had accumulated a 36-1 record for games played. Right on her heels is Junior Kayla Knoll, at 2-singles, with a 6-3, 6-0, result; for the season Kayla is sitting at 36-6. Very impressive for a first year singles player at the varsity level. At the 3-singles spot, Katie Degrace for the second match in a row, lost a tie break, setting up her Chesaning opponent's straight set victory. Rounding out the singles at the 4-singles spot, Alexa VanHine lost in straight sets.
Doubles was equally competitive with Chesaning. This was all the more encouraging for Frankenmuth in that the team was missing two senior doubles players and had to bring up a JV player to ensure fielding a full team. The duo of McKenzie Freeman and Megan Kueffner, at 1-doubles pushed their Chesaning opponents in the tie break before losing at 11-9 to decide the winner after the teams split the first two sets.
Alyssa Horstman, teaming with Kristen Loesel, 2-doubles, won their match in straight sets. They would be the only doubles team to win on the evening, easily outdistancing their opponents. At 3-doubles, the usually 4-doubles team, the team of Haley Goodall and Rachel Welch found themselves in a tie break to decide the match after their opponents won the second set of their match. Chesaning prevailed with a 10-7 score in the tie break. The newly formed 4-doubles team of Cassie Pierce and Noelle Nickbrocker (brought up from JV for this match) forced a 7-5 first set in favor of Chesaning. This hard fought victory for Chesaning shifted decisively the momentum to Chesaning and they easily took the second, and deciding, set for the victory.
Hemlock visiting Frankenmuth on Monday, April 22 was given the credit for bringing with them the best weather yet of the season. They also deserve credit for bringing with them a competitive team which resulted in the singles and doubles matches being split between the teams for a 4-4 result. The result had to be determined by a third set at the 4-doubles spot. Frankenmuth wins then there is a tie, Frankenmuth looses and it is a 5-3 victory for Hemlock.
Maddy Mertz has now improved the game record for the season to 48-1 (games won) with a 6-0, 6-0 victory at 1-singles. Mertz won her matches with a complete game of solid ground strokes, superior serving and varied shot placement. Also continuing a blistering pace is Kayla Knoll at 2-singles (48-7 in games won thus far). Knoll posted a 6-0, 6-1 result. Katie Degrace and Alexa VanHine dropped their matches in straight sets to their opponents at 3-singles and 4-singles respectively. Both players see their fair share of duece games. As they are able to put those duece games away, they will see improvement in their results. They are both focused on improvement.
The 1-doubles team of McKenzie Freeman and Megan Kueffner saw the best serves by an opponent so far this season. Forced to have to play back on receiving serve because of the power their opponents generated, Megan and McKenzie could not attack their opponents' serves. The result was often a put away at the net by the Hemlock team to end points early. They lost in straight sets. Reunited with her doubles partner, Sydney Sanotviz, Alyssa Horstman, 2-doubles, recorded a straight set victory for Frankenmuth. This senior team has been the most consistent of the doubles team winning 3-of-3 matches when teamed together. At 3 doubles, Chelsea Wilson and Kristen Loesel, dropped their match in straight sets after losing a first set at 5-7. This was their first defeat as a team. The 4-doubles team stretched out the drama as to whether or not the Lady Eagles would lose the match or end up with a tie. Easily winning their first set, they lost the second set. This set up a third set to decide the matter. Then returning to their first set form, they closed out the match with a convincing 6-1 set. This team of Haley and Rachel have won two matches and lost one (when they needed to play up at the 3 spot to cover absences due to the band trip).
1981