Business News
Police Report
New Business
2013 City Yard Waste Program
Balloons in the Sky!
Battle of the Fans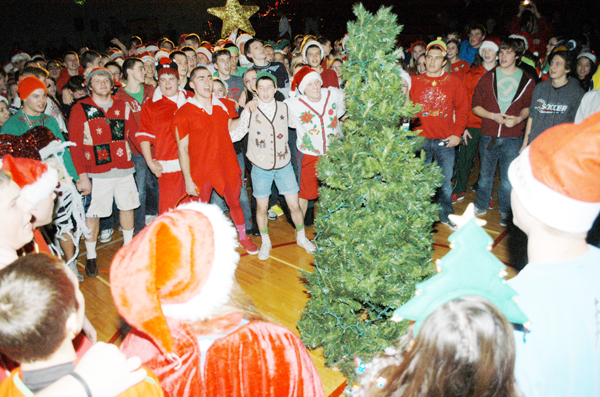 CHRISTMAS WAS THE THEME . . . for this year's MHSAA "Battle of the Fans," held last Friday evening during the home basketball game between the Frankenmuth and Bridgeport varsity boys' teams. The Eagle Student Section is one of five finalists for the 2013 award and the defending champions. (News photo)
Battle of the Fans II
The champion is back. But the competition is all new and no doubt hungry to become known as the best cheering section in Michigan.
Let the Michigan High School Athletic Association's second annual "Battle of the Fans II" begin.
Frankenmuth High School, which was crowned the inaugural winner in winter 2012, has been chosen to return. The newcomers among the five-school finalist field are Ann Arbor Gabriel Richard, Buchanan, Vandercook Lake and Zeeland East. Gabriel Richard finished sixth last year, just missing the finals.
The MHSAA's goal is to recognize the top MHSAA student cheering section.
The contest, organized by the MHSAA staff and its 16-member Student Advisory Council, will reward the cheering section that best creates the positive and festive atmosphere made possible when students show enthusiasm, togetherness and sportsmanship while rooting for their team.
MHSAA staff and Student Advisory Council members will personally visit all five finalists for home games during the second half of this regular boys' basketball season, with coverage and video from those visits and the announcement of the winner all to be published this season.
Frankenmuth is the first school to be visited. The visit will take place this Friday, January 18, during a home tripleheader against neighboring Bridgeport. The freshmen will tip at 4:30pm, followed by the junior varsity contest around 6pm and the varsity tilt around 7:30pm.
The Eagle students cheering section has chosen the Christmas theme for that evening.
Other visits include Buchanan on January 31, Vandercook Lake on February 1, Ann Arbor Gabriel Richard on February 5 and Zeeland East on February 8.
The winner will be announced on Friday, February 22, and a video of all five sections will be played on the Breslin Center HD in East Lansing during the boys' basketball finals in March. The champion will also be recognized during the boys' semifinals on Friday, March 22.
Last year, former FHS Athletic Director Jim Szur took a van full of the student section organizers to East Lansing to be honored and receive their banner, which is proudly displayed in the FHS gym.
A total of 27 sections – including 24 first-time applicants – submitted videos by last week's deadline. The finalists were chosen by the Student Advisory Council and the winner will be selected based on the results of a public Facebook poll and another Advisory Council vote. The online vote will take place February 18-21.
Two other Tri-Valley Conference schools were among the 2013 applicants – Hemlock and Swan Valley.
660