Home
CHECK US OUT ON FACEBOOK!
VOL. 109. No. 20 November 19 2014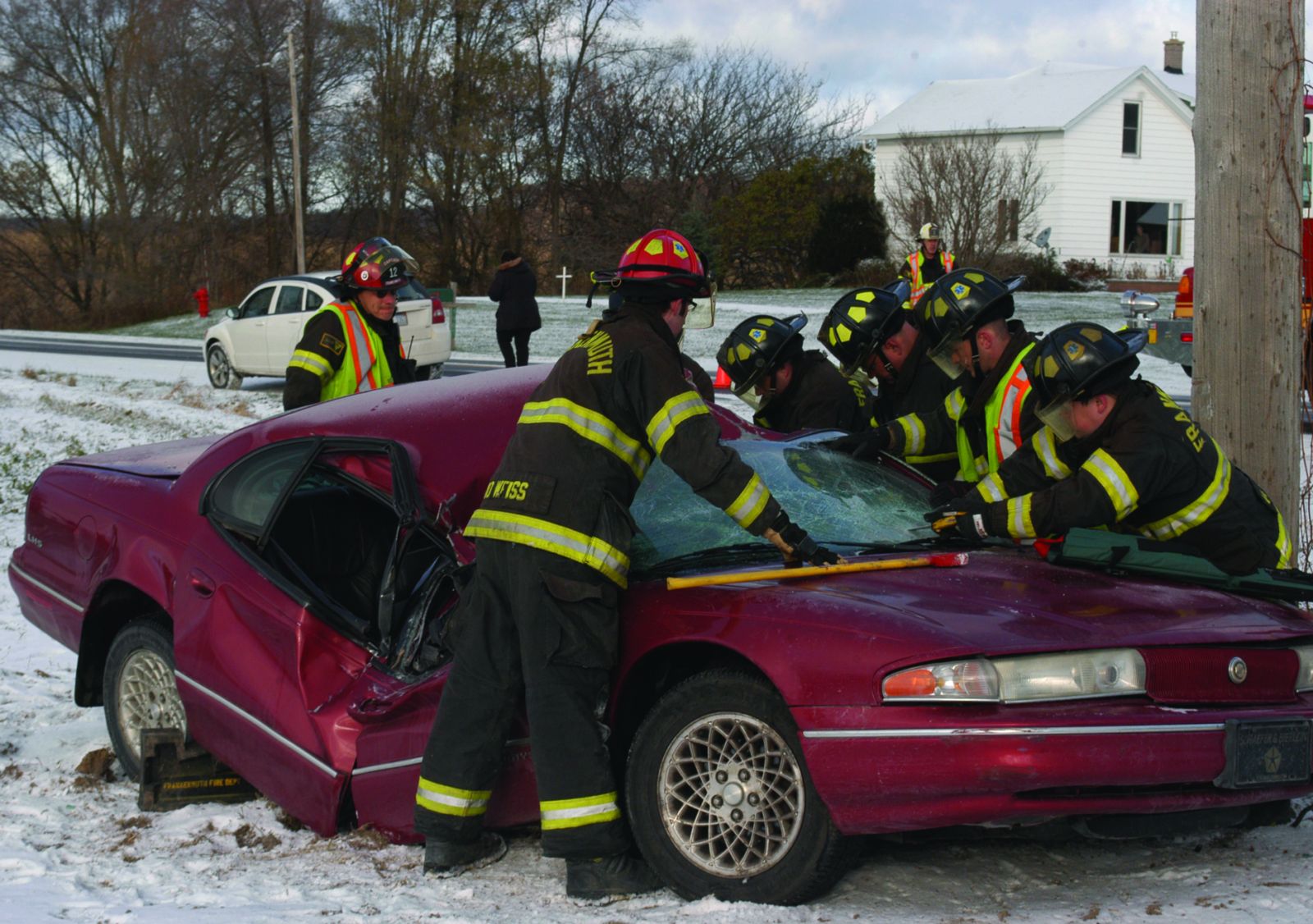 INJURY ACCIDENT ON JUNCTION ROAD: Members of the Frankenmuth Fire Department responded to a one-vehicle crash on Junction Road, near Maple Road, around 9am Tuesday, November 18. The firefighters extricated an 18-year-old Bridgeport woman, who was transported to a Saginaw-area hospital. Please see the story below. (News photo)
FPD officers investigating one-vehicle crash on Junction Road
The Frankenmuth Police Department is continuing its investigation into a one-vehicle crash that occurred in Frankenmuth Township Tuesday morning.
FPD Chief Don Mawer said the accident took place just before 9am on November 18 on Junction Road, just west of Maple Road.
The preliminary investigation indicates a 1997 Chrysler was being driven eastbound on Junction Road by an 18-year-old Bridgeport woman. The driver attempted to pass another eastbound vehicle and, during the pass, lost control of her car, leaving the road on the south side. The Chrysler skidded approximately 200 yards and struck a utility pole about 40 feet off the road.
The driver, who was alone in the vehicle, was pinned in and had to be extricated by the Frankenmuth Fire Department using the "Jaws of Life." Junction Road had several slick spots from recent snowfall and emergency responders also had to contend with 15-degree temperatures and a brisk wind.
Mobile Medical Response EMTs administered medical aid while extrication took place. She was transported to a Saginaw-area hospital with serious but non-life-threatening injuries.
Junction Road was shut down for about 45 minutes, between Maple and Reimer roads. Mawer said the crash is still under investigation and the case remains open, however, initial evidence would indicate speed and carelessness were factors. The name of the driver is being withheld as of press time, due to the open active investigation, Mawer added.
The Frankenmuth police and fire departments were also assisted by MMR Ambulance Service, Michigan State Police and Bridgeport Police.
611159